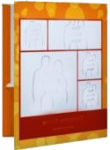 Promote your product or service to SCOE participants by displaying an image or text ad on the back of our registration folder for this event.
Cover Option: Half page full color high resolution image image or text Box
Inside Option: Quarter page horizontal black and white image or text box
Your display on the Conference Guide can direct attendees to your booth or website, make a special offer, or promote a featured product. Attendees take these folders home with them and many keep them around for years. Displaying your creative content on the cover of the Conference Guide will make a lasting impression.

Updating...