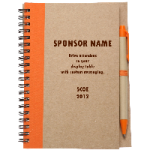 Put your company front and center with a notebook and pen set.
Product size: Approx 5" x 7".
Imprint area: Approx 2" x 2"
Qty: 100
Make sure that attendees see your message numerous times throughout the event. Attendees open and close their notebooks at each session and use them to exchange information during breakout sessions. This is a take-home item that attendees will continue to use as a reference after the event. Adding your message to event notebooks is a great way to get attendees to carry your message around with them.
Notes: We will contact you to get your imprint information. Actual design and style of product may vary from image shown. Participation in this promotional opportunity does not require your physical presence at the event.

Updating...