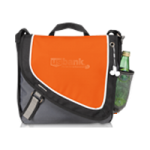 You only get one chance to make a first impression. Attendees pickup their totebags as soon as they check-in.
Product size: Approx 13" x 13".
Imprint area: Approx 9" x 9"
Qty: 100
Let the attendees carry your message around for you. The totebag is the first thing attendees see when they check-in. If you want to make an early impression, totebag sponsorship is the way to go.
Notes: Actual design and style of product may vary from image shown. Participation in this promotional opportunity does not require your physical presence at the event.
People who bought this item also bought

Updating...