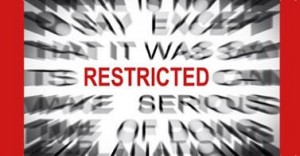 Many sellers have had the experience of listing inventory, just to be notified by Amazon that those items are restricted, and must be removed. Bob Willey of Seller Coaching has provided this completely unofficial (and possibly incomplete) list of Restricted Companies to avoid. It's a great starting point for avoiding unsellable products. Bob also keeps up-to-date on other lists of restricted brands.
Ahava
Apple
Bare Essentials Cosmetics
Beach Body/ P90X
Beats By Dre
Benefiber
Bose
Bragg Apple Cider Vinegar
Burberry
Buxom Buxom cosmetics
Chanel
CHIChicco (Artsana)
Coach
Comtrex
DDF
Discovery Kids
Disney DVDs
Dr. Brandt
Dunkin Donuts
Excedrin Sinus Headache
Ferragamo
Furminator
Gillette
Giorgio Armani
Green Pasture
Gucci
Hasbro Fur Real Adult Cookie Dog
HBO Season DVDs
InStyler
Kiehl's
Klipsch
Lancôme
Levi
Lifeproof
Lorac
L'Occitane
MAC Cosmetics
Meissen (Meissner) Porcelain
Michael Kors
Microsoft
Molton Brown
Nars
Nature's Sunshine
Need for Speed Rivals (Xbox 360)
Oral B
Otterbox
Ray-Ban
Rosetta Stone
Sanrio
Sensa Diet
Showtime DVD's
Sony
Speck iPad/iPhone cases
Spigen
Stila
Strivectin
Theraflu Caplets
True Religion Brand Jeans
Urban Decay
Victoria's Secret
Warner Brothers
Wedderspoon Organic Honey
Your Baby Can
Do you have any other companies to add to the list? If so, please contact us so we can keep our list current.